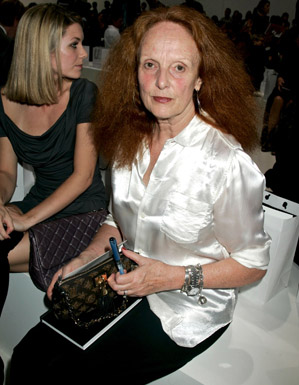 Grazia's intrepid Melanie Rickey simply made my day this morning with her Scoop story from Paris and her chat with need-I-say-it-again-the-one-and-only Grace Coddington.
So, treat this as an update on my previous post on 7L's sold-out and much-in-demand title, Grace, or as Christmas/Hanukkah/any other celebration of your choice and your birthday rolled in one, or just another silly little piece of information - in which case, what are you doing here? - but here it goes, in Ms Rickey's words:
"Before we leave her, Grazia wants to know if her brilliant book Grace: Thirty Years of Fashion at Vogue will be re-published due to popular demand? The fashion editor smiles a discreet smile "I'm seeing Karl [Lagerfeld – publisher of her book] in the morning and I'm going to pin him down".
And, right about now, you're allowed to scream!!!