And I loved it!
Naturellement
, I'm talking in the photographic sense of the word although
Candice
is such an angel that you'd happily accept a bullet from her and you'd probably say thank you in return. Trust me, you would.
Two reasons why I ended up loving the whole thing despite dreading it so much I was contemplating leaving the country and their names are Candice Lake and Rachel Ingram, aka The Dream Team*! This is why I found myself on a sunny but 4C H.O.T. December morning on the mean streets of Primrose Hill freezing my limbs off in pretty little S/S'12 things, with Candice kindly offering instructions on how to appear taller and leaner ("thrust your pelvis forward, shoulders down...") that went in one ear and out the other while simultaneously hatching a master plan to get me killed by incoming traffic ("stand in the middle of the road and skip towards me, skip, SKIP, ignore the giant van coming towards you, gooooorgeous...") and Rachel (who works with me at Glamour where I kindly feed her neon addiction while she tries to get me to stop wearing socks with heels) manhandling me with my own coat and rubbing my arms to keep circulation going, at least until the shoot was over.
So, here are the resulting images, which appeared in the March issue of Glamour, where behind all that smiling and smizing you can see my eyes going dead from the cold, my skin turning a deathly pale hue and my dying arm clutching that neon clutch one last goodbye.
* Our last victim was the gorgeous Caroline Issa that Candice agreed to shoot straight after landing from a 125 hour flight back from Oz. We are dedicated assassins, you see.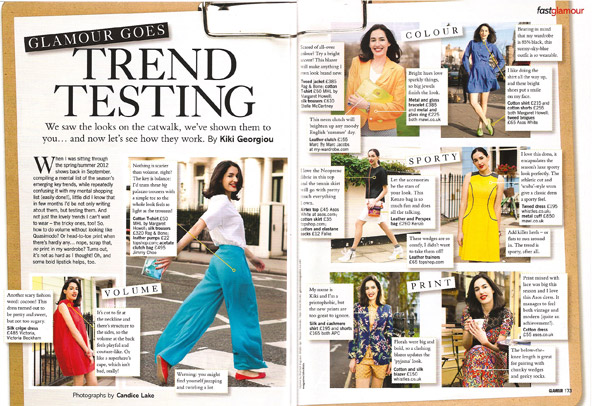 Click here to view larger but please, do cover your eyes!