My
obsession
with bikes and what girls choose to wear for riding theirs (in most cases, nothing remotely cycling-related) shows no signs of cooling off

although, I must admit, the two dozens of
Boris
bikes stationed 3 minutes from my house have helped in eliminating the desire to actually buy one! Thanks,
Boris
. So, most days you will find me and my red satchel on a funny-looking blue bicycle riding downtown through Regent's Park.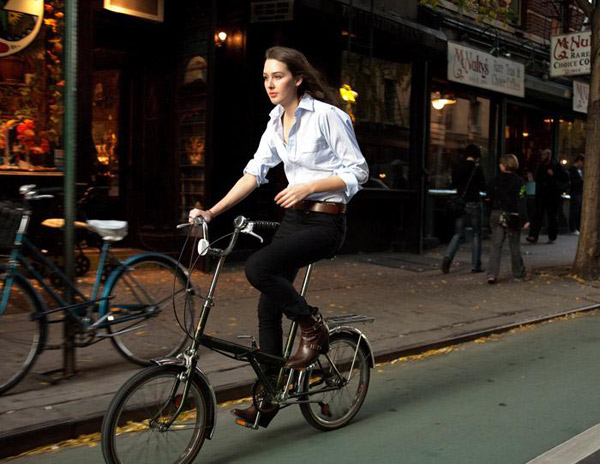 I was pretty excited then to see these daily riding trousers (yes, I stuck to the American 'pants' for the title) from
Outlier
on
Jo's
blog. Made locally in New York City, Outlier's designs are focused on clothing to cycle in but in essence, they're classic American sportswear designs.
"
We firmly believe that the bicycle is the best form of urban transit for the 21st century, and our clothing is designed to make that fact even more true. Your clothing should work as well on a bicycle as it does on the subway or in a car, without shouting to the world "I'm a cyclist." We are a clothing company first, not a cycling company. But we're a clothing company that designs simple, good looking and hard wearing garments for a world where bikes are a part of your daily life.
"
I love these Riding Pants and I'm keen to get a pair and try them on. I like the seam detailing that instantly brings to mind classic jodhpurs but their skinny cut makes them modern and really, a great alternative to skinny jeans. Oh yes, and even my most trusted pair of skinnies doesn't feature a "
self-cleaning nanosphere treatment" which ensures that "coffee, wine and dirt roll off with ease, keeping you looking fresh and clean in the trickiest of situations" or a "Schoeller Dryskin Extreme fabric" that looks elegant, yet repels water!
I think my Boris bike will like these!