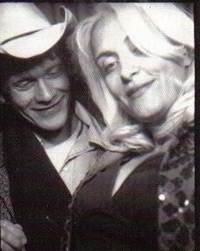 If there had to be one poster child for 'slow' design, sustainability and community support
in the world of fashion

surely
Alabama Chanin
would be it. The proof is in the signature that ties each hand-crafted, limited-edition item to the artisan who made it. Does it get more personal than that? Based in Florence, Alabama the label is commited to producing high quality products, "from farmer to fiber to artisan to home, grown-to-sewn in the USA".
Behind it all, is Natalie Chanin as the owner and designer of Alabama Chanin (and the original Project Alabama). I caught up with Natalie just after the SS10 presentation in New York and here is her When, What and Who!
WHAT DID YOU DO
WHEN
YOU FIRST HEARD YOU WERE NOMINATED? SET THE SCENE FOR US.
I was sitting in the studio when I got the call that Alabama Chanin had been nominated. Much like today, I was trying to work my way through emails and other business demands - a very mundane day in the "fashion fabulous world!" Steven Kolb, from CFDA, called me and I could really say nothing. Not very typical of me the Southern storyteller...I just sat here in silence. But, I am very happy and honored to be included with such a great group and to have the support of my industry. Means a lot...
WHAT ARE YOU PLANNING TO WEAR ON THE BIG NIGHT AND WHO ARE YOU TAKING WITH YOU?
Seems that we have a lot of big nights ahead of us before the final gala...Of course, I will be wearing Alabama Chanin and I plan to bring a secret date! (Smile)
WHO ARE YOU MOST EXCITED TO SEE THERE?
I am most excited to meet all of the other finalists and looking forward to getting to know them all!