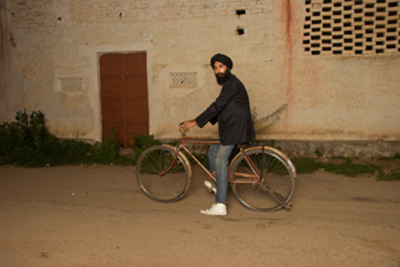 If Waris Ahluwalia wasn't already a bona fide member of Wes Anderson's
troupe
(Life Aquatic, The Darjeeling Limited) I imagine Wes would have to make a movie about him; The Fantastic Mr. Waris, perhaps?
Our protagonist moved with his family from
Amritsar
, Punjab to Brooklyn, NY at the age of 5. He thought of becoming a doctor, a lawyer, risked one advertising interview, attempted to make a music magazine, got involved with a friend's NGO for increasing HIV/ AIDS awareness in South Asia and found himself back in New York, immersed in the art life of the city. He then has a guy in New York make some jewellery for him, escapes the cold of the city for LA, helps a friend set-up a restaurant and one day, wanders into ultra-luxe boutique Maxfield's where the owners spot his rings, immediately place an order, they sell out and House of Waris is born. I hope you're paying attention, Mr Anderson!
Here's his When, What and Who plus a wonderful behind-the-scenes into the making of his exquisite, romantic collection in India. The final image alone takes your breath away.
WHAT DID YOU DO WHEN YOU FIRST HEARD YOU WERE NOMINATED? SET THE SCENE FOR US.
I was sitting in my workshop working on a pair of earrings in Jaipur, India when I first heard the news. I smiled and continued to work on the earrings.
WHAT ARE YOU PLANNING TO WEAR ON THE BIG NIGHT AND WHO ARE YOU TAKING
WITH YOU?
I don't plan so far ahead but I imagine I'll wear a suit. Some things are better left as a surprise- even for me.
WHO ARE YOU MOST EXCITED TO SEE THERE?
The Fashion Fund panelists.