For a tomboy who spent her childhood summers

climbing up trees and seaside rocks, venturing on secret bicycle adventures and collecting bruises, scratches and dirt like badges of honour La Garconne is the epitome of everything my now older but still-proud-of-remnant-scars-from-kicking-boys self would ever want in her wardrobe! Something akin to Oscar de la Renta for all Upper East Side princesses. Or look at it this way; it also worships at the altar of Saint Sofia of Coppola!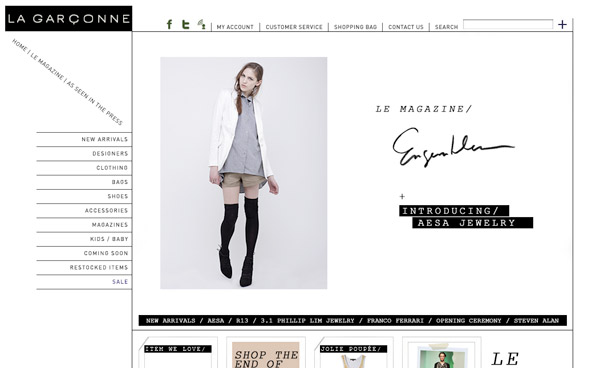 I love the clean, minimal but full of character layout, the easy displays, the inspiring editorial they put together and above all, the superb selection of labels in their roster. From Comme des Garcons, Zero + Maria Cornejo, Proenza Schouler and a dose of Lanvin in the Atelier section to - take a deep breath - Phillip Lim, Acne, Alexander Wang, A.P.C., Boy by Band of Outsiders, Future Classics, Jerome Dreyfuss, Lover, Opening Ceremony, Rag & Bone and Vanessa Bruno in the Boutique; surely this is the coolest, most desirable list of must-haves anyone has put together, right?
Oh, but I lied. Above all these, what I love the most about La Garconne is the name itself. La Garconne c'est moi!
This is an older editorial page on all things Le Smoking that still makes me stare at it for far too long, in hope that I will magically metamorphose into Sofia or Patti, or at least that those shoes will appear by my desk. And here are some shots from their latest Spring-Summer shoot. Knee-length socks, dainty prints, cardis in soft tones, cool shorts with clog boots that are so wrong they're the only right thing in the world as of now, a long skirt, stripes
and
a cropped trench/cape hybrid? Yes, oui and si, por favor!