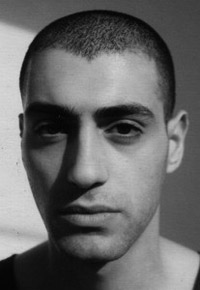 I must have first come across Husam El Odeh's name a little while ago, most likely in a blog or magazine talking about how incredible he is and what great things are expected of him.

Frankly, such things are written and spoken regularly so I must have not paid particular attention because when I came across his name again in preparation for my first interview with Acne's Creative Director Jonny Johansson for Ponystep, I was not only mesmerised but...hooked!
It seems Husam has the same effect on others too. Jonny talked endlessly about their ongoing collaboration for Acne and visiting him at his studio and went on to describe it in detail like a kid in Willy Wonka's factory or Aladdin's cave. He stopped and asked me, "Have you met him?", I answered no and then he said, "well, when you do, you'll see." Well, I saw alright! I met Husam in April at a party in Harrods to celebrate Acne's new boutique space and an exhibition of Husam's past collections. He was charismatic, polite and fascinating and as his quotes could not be used in the story due to space reasons I thought they should appear here. It was all - as he would say - "super-nice"!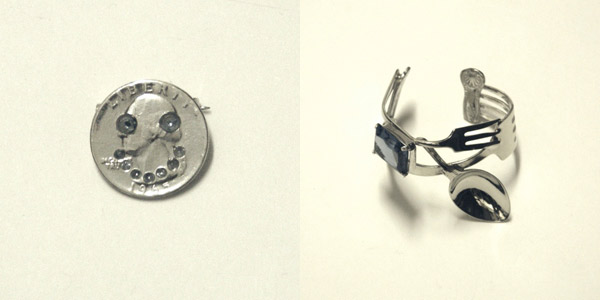 Kiki Georgiou: I spoke to
Jonny a while ago and he said how impressed he was by you. What did you think when he first approached you?
Husam El Odeh: It feels like a long time ago! They did an article on me for the Acne Paper, I obviously knew what they were doing and it was super-nice, I was really flattered. They came to visit me in the studio. I have this massive collection of everything, which is quite handy when I do a design meeting, especially as I work quite a lot with collaborations. When you work with fashion designers, you know, they have their materials and they're not so much used to my kind of materials and although I can understand what they're doing it jars in the beginning and I almost need to just go like "no, you can do this", and put one thing on top of something else. And I kind of draped the studio a bit, as you always do when you've got people around, and there was this one sample of a pair of jeans where I'd attached a piece of metal to on the wall. Jonny had originally been interested in these silver-covered pieces that I'd done, in quite a different context but I think he really liked the technique and the way I'd finished it. Then this armoury thing came into it as well and I thought it'd be really nice to do texture on texture so we etched the texture of denim onto the jeans. Yeah, it was a really pleasant collaboration I think, they're a really nice team to work with.
KG: He seemed very impressed with your cabinets of curiosities!
HEO: (laughs) I'm not really a hoarder! I let go of things, sometimes I think I collect things until I've figured them out and once I've kind of processed them I can let go, I don't need to keep them. I did this thing once where I sold off all these bits of research of mine, things that I just found. We sold them for like £2-10, or something like that, with just a thread on them. So, I like this weird mix where you can do something very expensive with something very cheap and both tings are still valid in their own right.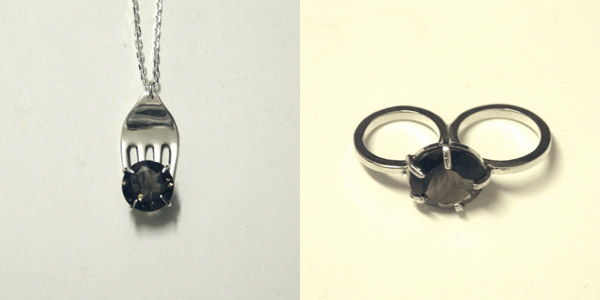 KG: You collaborated first for SS10, and then again for AW10.
HEO: It was hard work! I shaped every single piece myself! We kind of did a diffusion line of those pieces, which actually came out super-nice, because I think the brief was tribal Star Wars and futuristic I guess you can say…
KG: I was going to ask you what you thought of Star Wars!
HEO: You know, it's very rewarding when you work with metal so futuristic is always one of the trends where I'm like, "oh, I wish that could come back!" so yeah, it was quite good.
KG: Thanks to Jonny's little kids for influencing that!
HEO: Yeah, I suppose so! We did this thing, Jonny wanted colour so we found this type of enamel we could bake onto metal and it was super-nice, we found some really nice, fresh colours and covered certain areas.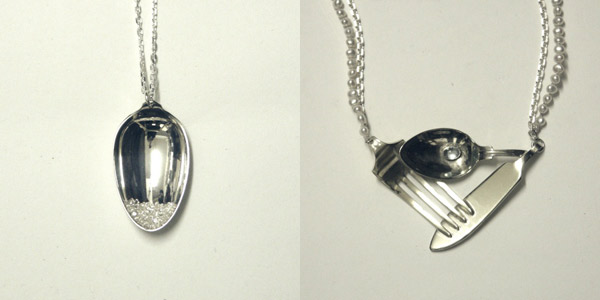 KG: And, is this going to be an ongoing collaboration?
HEO: We've started working on the next collection a little bit. I'm really happy to work with Acne, they're a super-nice design team, I really mean that. It feels very honest; it's almost a little bit non-fashion in a way, which is refreshing. I mean, obviously it is fashion and I don't mean to be one of those annoying people that say, "I hate fashion!" but they work in fashion! Because Acne think outside the box, like with the furniture, I think there's a vision beyond just making clothing and I like that. And in a way, I don't make clothing anyway so I guess that's my take on accessories, sometimes almost questioning those things. I work with things that are meant to be functional but don't work anymore and I like people thinking outside the box, it's very attractive to me. And the aesthetics, you know, I'm German, it's kind of simple, graphic, has a strong signature and I feel it's very appropriate in a way.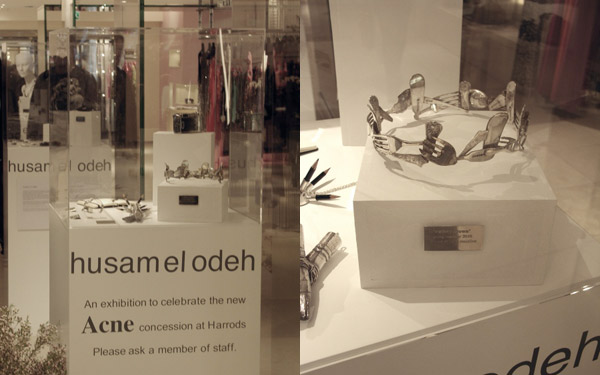 KG: And this exhibition for Harrods…
HEO: It's basically pieces that I've done over five years I guess. In fact, I think I've never seen such complete selection of my work myself! It's weird because we got lots of things sent over, some things I've only made once or I sold out. You know, when you start your own thing you just sell everything because you have to pay your rent…
KG: I think that's the point, Husam!
HEO: Yes, I suppose! But it's always good to keep one.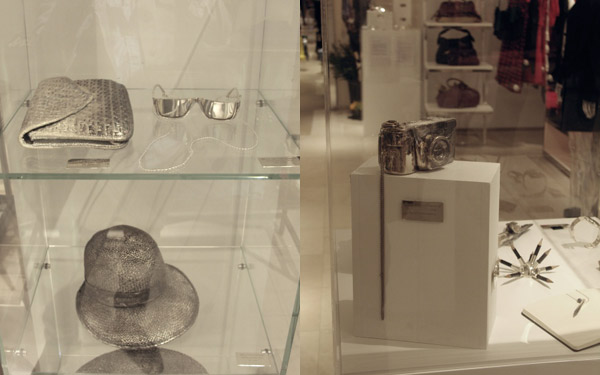 KG: Do you keep an archive?
HEO: A little bit. We started doing it better now but as I said, I started when I was still at University and when somebody says, "here's this amount of money, give me that", you're just "Yay, give me a cheeseburger!" It's one of those things!
KG: So, have you seen anything in this selection of your work that's surprised you?
HEO: No, although in a way, I am really surprised that we made this again! [
Husam points to a piece of multiple and varied intertwined watch faces
] I sold the original and this is a remake. I thought I'll never do this ever again because, I think the original took a week of my personal time and work. It was sold to Karl Lagerfeld in Colette, we couldn't say no! I didn't want to sell it actually, I said to them, If somebody wants to buy it could you just contact me, they didn't but…
KG: I don't think you can say no to Karl!
HEO: No, you can't! But it was really great. And I said I'm not doing this again and we did. And I'm not selling this! Although, I am thinking of doing something with it, I'll let you know!
KG: What are you doing next?
HEO: Well, I want to go to Germany if the planes let me tomorrow and give my nieces some teddy bears!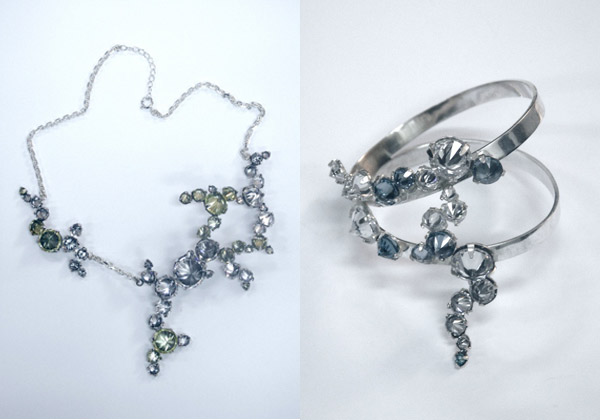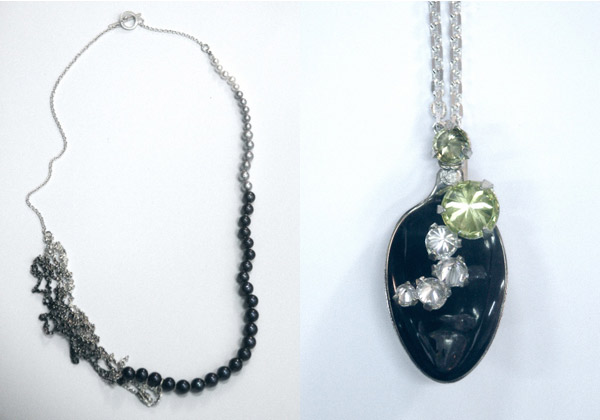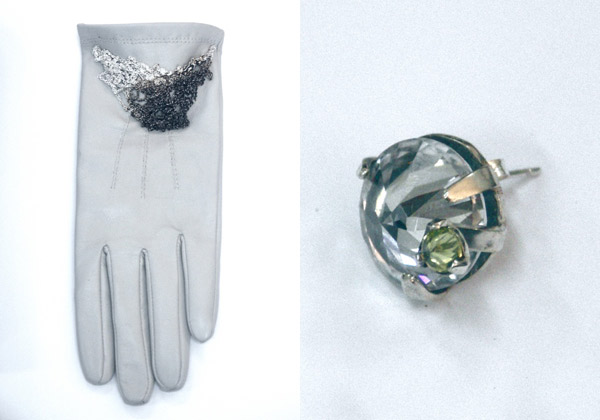 I hope he made it. And I wonder, were those silver-coated teddy bears?
First set of images from Husam's SS10 collection, second set for AW10.