My grandmother has one of the most refined personal styles I've seen yet and the best part? She doesn't even care!

I'm not sure if she makes any time in her busy morning schedule; up at 5am to water her gardens and get a good start on the day's to-do list (not that she even makes such list!) - household cleaning, cooking, some needlework before church with a not-to-be-missed break for one of her dubbed South American TV series!
She has a beautiful Singer sewing machine that she brings out now and then, mainly for alterations or to add a lace trimming to a tablecloth, and a stack of priceless-to-eBay-hunters Burda magazines and she makes most of her simple and simply chic shirt dresses herself, often from fabric that her sister in Australia sends to her. In the summer she'll throw one of those on, in a light pattern but never a bright print, with a cardigan she knitted and a pair of flats (always flats), moccasins or slippers. In the winter she'll wear a just-below-the-knee length wool skirt with a sweater, skin-colour pantyhose and lately a grey tweed coat whose rounded sleeves and bell shape scream Balenciaga to me and comfort to her. She'll add a leather purse (for church) or a black nylon bag that once came with a magazine (for her knitting supplies). She has never worn trousers or bright colours in her life, her hair is regularly cut into a boyish short style and she owns not a single piece of make-up. And yet, when I look at her I see a woman with a style that's entirely her own and utterly considered without a single thought having been spared on it. It's natural, it's hers, it corresponds to her beliefs, her ideas of what she should look like and works for her lifestyle. Isn't this what style is, after all?
On the opposite side of the rainbow, smoking a cigarette and sipping a cappuccino is my aunt Noni. A beauty to rival Elizabeth Taylor in her youth, with stunning blue eyes that my sister and I still regret not inheriting (not that we had a say on it but still, the disappointment lingers), a neckline that low-cut dresses were designed to showcase and a chutzpah that has carried her through life when life herself hasn't been kind to her, she's loved dressing up, going out, having fun, dancing, laughing. Having spent a small fortune on elaborate gold crosses, she has a collection of costume jewellery that you cannot help borrowing from and will always be seen in a pair of big, often animal-print sunglasses to make Jacky go, 'O!' In the summer, she'll put a long skirt on and then pull it's elasticated waist to her bust. Ta da! An easy-breezy, Seventies-inspired, eat-your-heart-out-Bianca-Jagger summer dress! Ingenious or what?
Neither of the beauties below is them. I have chosen not to show you a picture of them for two reasons; a) they feel more special to me that way, their image is mine and my sister's to hold and adore and b) they would both KILL me if they ever found out! But I recently saw these two splendid images on The Sartorialist and thought of my grandmother and aunt and contemplated the effect they've both had on me and how I've probably come to dress in a way found in the middle of their two extremes, in the middle of the rainbow. I have my grandmother's tendency for dark colours and simple shapes and my aunt's appreciation for the odd crazy bangle or brooch. In fact, two of my most cherished items are theirs. An oat-coloured shawl grandma knitted and a black woven purse Noni handed down to me.
So, forget the magazines I regularly contribute to and the season's trends we dissect and shop accordingly and look at those around you that have had a lifetime to develop what suits them best, what takes them through life. They aren't a style, that style is theirs. But still, no pictures for my two heroines. Like I said, they'd kill me!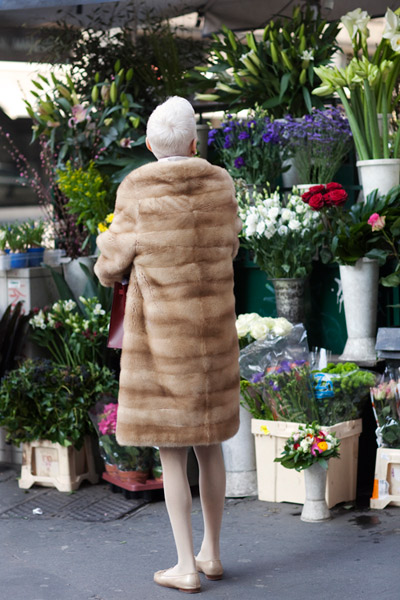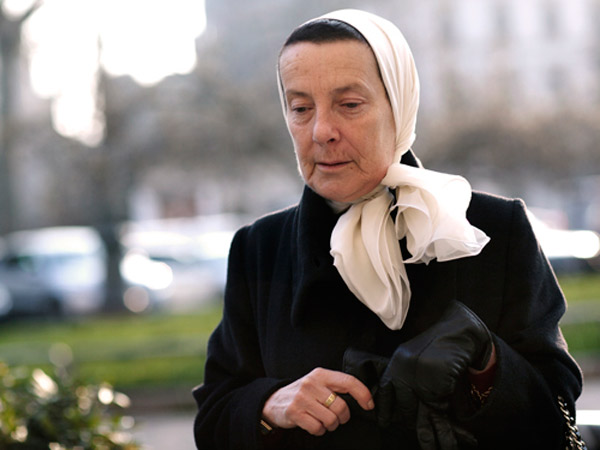 Images by The Sartorialist, Advanced Style: Age and Beauty on Nowness.com.