T
o me, the inclusion of Gary Graham's name on the final shortlist encapsulates all that is right and important
about an industry event like
the
CFDA/Vogue Fashion Fund
. I am more than certain that Mr. Graham's
label
has built a loyal following in the 10 years of its existence and that they, and lucky passers-by, will now be able to visit his new Tribeca store for a close-up of his beautiful collection but little ignoramus me hadn't heard of it until I saw his name on the finalists list. Precisely this, introducing designers to a wider audience whilst supporting young names, is why the Fund is so vital, especially now.
So, I googled and clicked and viewed and loved both his current autumn-winter collection, there's a perfect red dress, a great landscape print and
those
silk bodysuits/leggings, and the SS10 he presented last month (doesn't it feel longer?). Gary Graham is clearly into Victoriana in all its romantic-worn-in-petticoats glory, but there's a freshness and lightness about his collection that reveals a designer of both experience and expertise, and what could be more important than that?
Here's his When, What and Who!
WHAT DID YOU DO WHEN YOU FIRST HEARD YOU WERE NOMINATED? SET THE SCENE FOR US.
I was helping to set up for our sample sale that we were having in our new space when I found out. I then took the j train to Bushwick to buy a new dryer for our studio.
WHAT ARE YOU PLANNING TO WEAR ON THE BIG NIGHT AND WHO ARE YOU TAKING WITH YOU?
I will probably wear this black suit I found a couple years ago in New Jersey.
WHO ARE YOU MOST EXCITED TO SEE THERE?
Diane Von Furstenberg.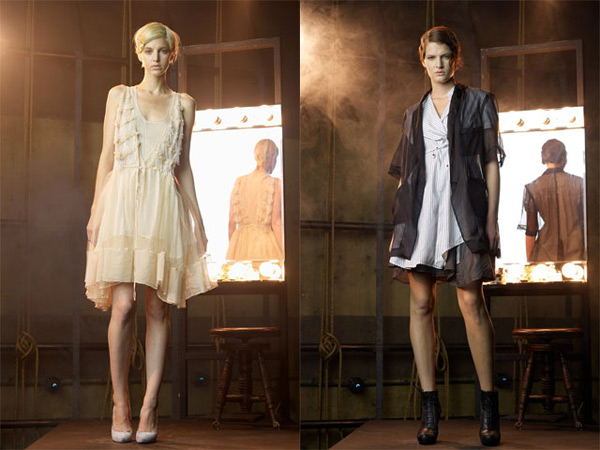 All the best Gary!
UPDATE: Gary just informed me that the always fantastic Shop at Bluebird stocks his label here in London so do check it out!