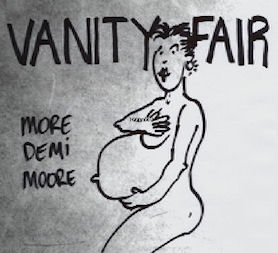 I am a news geek, a news nerd, a news junkie.
I may complain about the damage that 24-hour news cycles cause to anyone who will hear me (yes, I am fun!)

but I will confess that I check the
Guardian
online 1,500,000 times a day, watch about three different news programmes daily, local and national/international, and am currently suffering from a
Question Time
and
Dimbleby
double withdrawal, although
Paxo
,
Kirsty
and
Newsnight
do keep me alive (by the way, I idolise Kirsty Wark, too much). And, I love
Channel 4 News
and
Jon Snow
also, too much, I mean Snowblog?! So, you can imagine my joy when they reported the
Annie Liebowitz debt story
swaying around the copyright issues of not being able to show any of her photographs by...wait for it...sketching them! Like this one here! If only Jon turned them into a game of charades my life would be complete. And right about here, I will stop embarrassing myself.