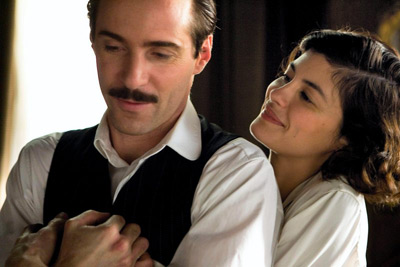 So, I went, I saw, I liked.
Coco Avant Chanel
is rather good.
Admittedly, I walked into Odeon Camden's tiny screen 5 with a lot of trepidation (incidentally, a cute screen to see small, cute movies, with a declining floor that's perilous for open bags but adds to the overall Alice in Wonderland feel, or that might just be me) and very low expectations. Fear not, I'm no
Mark Kermode
so there's no review following but I must say two things:
- Towards the end of the movie Audrey Tautou literally
transforms
into Mademoiselle Chanel with a great scene where she's leaning against a doorway that
screams
Cecil Beaton
.
- But

the greatest moment in the film has to be Boy Capel asking for his blue polo top back from Coco (she always 'borrows' his clothes) as he can only get those in England. She asks what the fabric is and he responds, in the smoothest, most hear-it-and-melt voice: "Jersey". That was

it

for me. Merci Boy!
Image by Sony Pictures Classics.