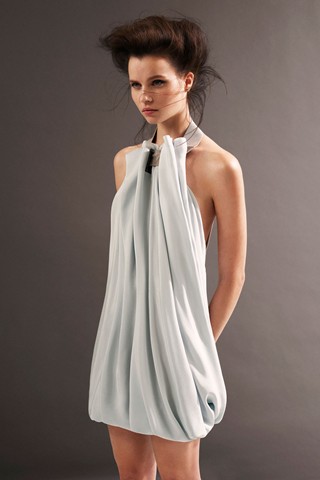 Roksanda Ilincic's second collection for
Whistles
(surely one of the few designer/high street collaborations that make sense) was inspired by
summer and more precisely, "
the feelings that summer brings in all of us: fun, happiness and lightness!
"
,
a
c
c
o
r
d
i
n
g
t
o
t
h
e
d
e
s
i
g
n
e
r
h
e
r
s
e
l
f
.
Isn't it a relief to read such positive and calming feelings in a collection?
What's striking about the capsule line of just ten dresses, every one as wonderful as the next, is its colour palette, one of Roksanda's many strenghts as a designer
;
there's sour apple, buttery yellow, sugared lavender and, of course, the palest blue. It makes you want to lie under a serene summer's midnight sky, count the stars and smell the sweet flowers around you. Just be careful; this being Roksanda, the delicate beauty and loveliness of her designs must always be offset by a stronger, dangerous element, in the same way a pale silk dress is held together with a striking black grosgrain ribbon. This time, it's the names she's given to each dress, all poisonous British wild flowers; celandine, clematis, milkweed. So, go ahead, smell the flowers but at your own peril!
The collection will launch next month but in the meantime Whistles are offering a beautiful short film from the collection's press launch at the Saville Club that will also give viewers and customers the opportunity to reserve your favourite dresses in advance. The film will be shown from 16:00 this afternoon until midnight before being taken down and shown again at the official launch in three weeks time. If you're a Roksanda and Whistles fan (and who isn't?) and want to make sure you get your hands on one, or more, of the dresses this is your chance. Below is a short preview of the film. Enjoy, go to
Whistles
for the full version from 16:00 and...well, just daydream away. Summer is surely not far now!