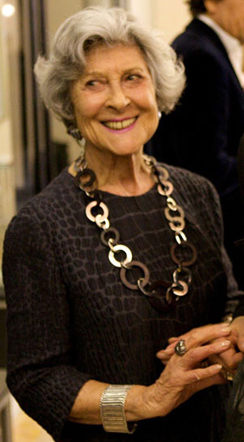 "At the time, my children were enrolled at the Lycée Français, and there was a uniform, you know; cropped Shetland sweater, kilt, knee socks. And on the top, a Marks & Spencer raincoat tied at the back. Very smart. And I thought, this style, it's great. That's the image for Browns. And of course, I found what I was looking for in Paris."
"But anything I've despised in particular…? Vulgarity. I think it's good for the young kids to be fashion victims — I like to see them piling it all on; it shows enthusiasm. But there comes a point, once you've been around a while, that you say to yourself: Aha, this is what works."
Mrs B speaking to Style.com's Maya Singer.
Image by Style.com.