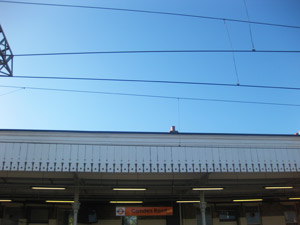 There are these magical moments when you're travelling, where you find yourself in a place you've never visited before, read and heard very little about, have no known connection to and just so, at first sight/smell/sound/handshake/smile, you fall in love with it.
You may start thinking about previous lives, kindred spirits or fate because you instantly feel at home, comfortable in your surroundings, excited by the food, people, landscape in a way that you know will last longer than a quick holiday and I don't think you'd be so wrong to do so. To me, it's proof that we're 'world beings', the whole world's citizens and not just a single country's. Suddenly, you're stopped in your
tracks
by the sight of a familiar face on a stranger; a
neighbour
you haven't seen since you moved house, an old friend at school, the lady that owns your local shop. You know it's not them, they're miles away, but something about this person makes you think of them and again, you feel at ease, like you are where you want to be.
From 2005 to 2006 I went on a round-the-world trip with T that lasted seven months (cut short by a few months for a mere two week's spending in Japan! Yes, it was worth it) and I feel lucky enough to have experienced such moments a few times.
Siem
Reap,
Camdodia
was one - the strongest yet. Hanoi, Vietnam was another and it's this place that
Banh
Mi 11
took me back to when I first read about it in Bee Wilson's wonderful food
column
in the Sunday Telegraph's Stella magazine and on my first, of many, subsequent visits at Hackney's Broadway Market.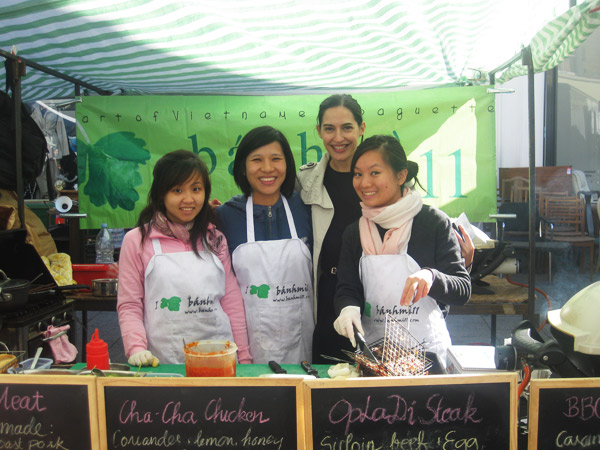 But first; what is
Banh
Mi? A Vietnamese baguette to rule all baguettes, it is primarily filled with delicious pork, fresh cucumber and aromatic
coriander
. From this simple base - that's perfect in its own right - you add and build on and create a
fantasia
of flavours. Combined with a proper Vietnamese iced coffee, with condensed milk, it may well be one of your best meals ever! In the south of the country spring onions and a sweeter, spicier taste is traditionally preferred, something
Anh
assured me you would never come across further north!
Banh
Mi 11 - and forgive me, Vietnamese buddies, for abandoning the correct accents out of laziness! - is the culinary venture of
Anh
Vu
and Van Tran who alongside other friends, like Ling who was there helping out when I visited for this story, set up their food stall in Broadway Market and have been at their current location since July this year (walk straight through the market towards Regent's Canal at the back and it's there on your left. Or better, follow your nose!). As
Anh
told me, a particularly enthusiastic fan once drove there all the way from Leicester!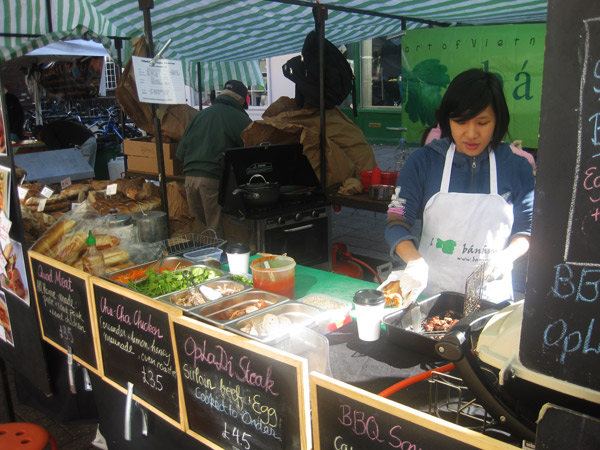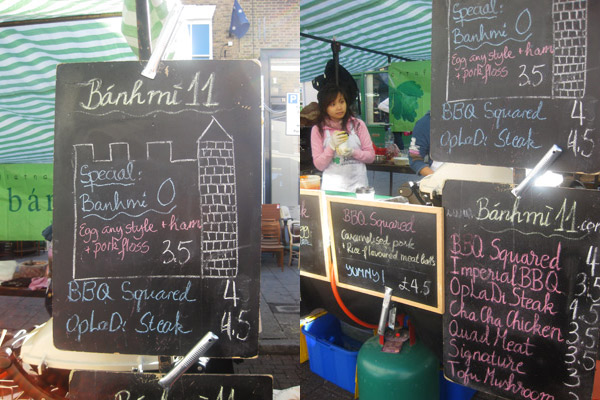 Anh
told me - impressively while preparing for a full day's work ahead - on a cold but sunny Saturday morning how they all missed the
banh
mi they had back at home in Vietnam (both
Anh
and Van are from Hanoi but met as exchange students in London) and since it was the type of street food you picked up on your way to school they'd never learnt how to make it. This nostalgia combined with the very simple fact that
banh
mi is delicious and if you too lived in a city that didn't offer it you'd soon start making it yourself, pushed
Anh
and Van to start their weekly market stall - while working at their jobs all week! Now,
that's
dedication. They're trying to update traditional food and flavours for a younger generation and after all,
Anh
herself admits that she couldn't make it just like her mum's anyway!
The process is not simple and a lot of care is taken in getting the best quality ingredients possible. Everything is prepared during the week; they make the regular trip to
Smithfield's
market for the best quality pork from their trusted butcher - at 3 and 4 o'clock in the morning, mind you! Then, in a slow food method, the meat is minced, cut, and cooked not once but twice as well as being marinated. All this takes place from Wednesday so that everything is ready and fresh for Saturday morning. So, there is pork ham, roast pork and chicken marinated with ginger,
coriander
and lime. There's a home-made
chili
sauce, the traditional cucumber and pickles and something marvellous called 'cotton pork' or 'pork floss', which is basically a very thinly shredded twice dried pork that's also added to the baguette. And then, the magical pork
pâté
that's perhaps
the
key ingredient and whose recipe comes directly from none other than mum!
For
Anh
and the girls this is about food
not
taken for granted. It's about working with something interesting and mastering different techniques. It's about not following a recipe but thinking and going by taste. But above all, it's personal and frankly, isn't that what really good food is all about?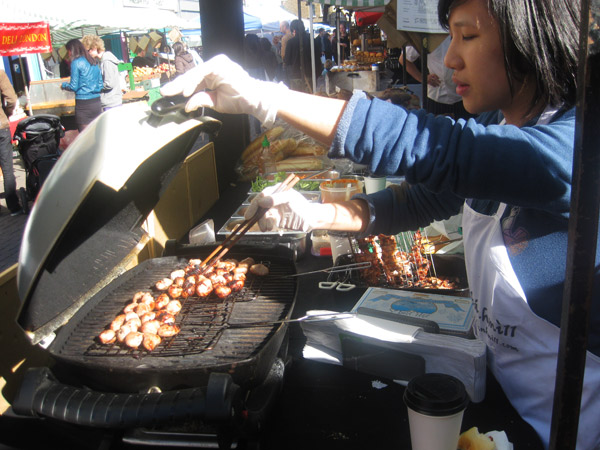 With huge thanks to the
Banh
Mi 11
gang! Counting down the days till February when you're all back from Hanoi and I can't wait to try the new addition to the menu -
Pho
Bo!