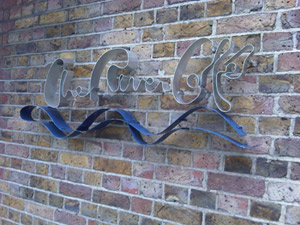 The food at The River Caf
é
really has the power to reduce your thoughts and feelings about it to single words.

Not because it's bland or uninteresting but because it's so good.
Long, rambling and eloquent descriptions of each plate go so far and beyond the point they miss it completely. Hence the title to this post, it was simply perfect!
My first visit there was for T's birthday lunch earlier this month. Here's what we had. Few ingredients of sublime quality on each plate so simply presented it dared you to search for faults. I resisted, enjoyed every mouthful and if you're wondering there were none. I guess the sign of a well enjoyed meal is finding yourself thinking back to it longingly days and weeks and months later. This was one of those.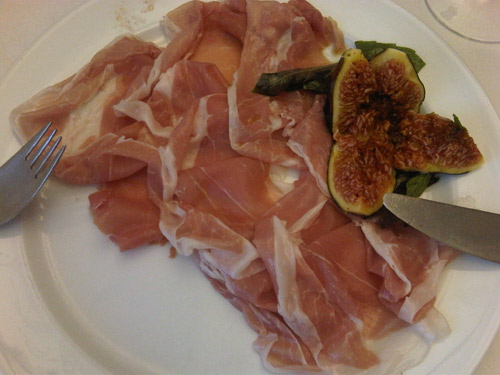 My starter of Prosciutto di Parma with Turkish figs that had just arrived. It did exactly what it should; the prosciutto melted in my mouth and those figs were deliciously succulent and honey-sweet.
T started with the chargrilled squid with fresh chili and rocket. The smokiness from the grill enhanced the flavour of what is officially the softest and most tender squid T has eaten so far.
For my main, I chose what is probably one of my favourite plates ever - and there are quite a few! Linguine con vongole and white wine. The sea in a bowl.
T chose the red mullet with potatoes, tomatoes and olives and although he really enjoyed the fish itself he could not get over how incredible the potatoes were. I tried them. He was right, I don't know how far you can take the humble potato taste-wise but these were there!
Dessert time and for Birthday Boy the irresistible
Summer Pudding with Valpolicella & Crème Fraiche.
And for me, one of the most delicious little bowls of sublime taste that's ever been placed in front of me; a simple affogato. You may think I'm going too far but so what? I enjoyed each spoonful of some of the best vanilla ice-cream soaking in hot espresso so much it's the one dish I'm still thinking about. Simplicity. You can't beat it.