A little while ago
Selfridges
asked me to contribute my own 'shoe story' to an ongoing project creating excitement for the upcoming launch of, what is officially, the biggest shoe department in the world.
The new Shoe Galleries space will comprise of six galleries, eleven boutiques and - if you felt something was missing in this sentence here it is - one hanging garden! It didn't take long for me to decide which pair of shoes to write about. My relatively new Church's and I have been having an affair of late and although my Martin Margiela pumps (that actually made it into
Grazia
!) were the best gift I could give myself and make me feel all grown-up, my brogues make my inner tomboy really happy and at the end of the day, that's what I am! Here's a little pic and below is the full text, just in case you want to read about me kicking boys in the shins - when I was little, of course! I told you, I'm all grown up now.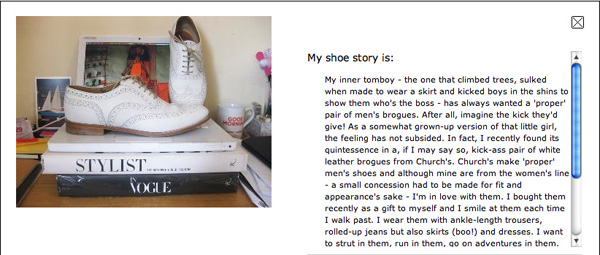 My inner tomboy - the one that climbed trees, sulked when made to wear a skirt and kicked boys in the shins to show them who's the boss - has always wanted a 'proper' pair of men's brogues. After all, imagine the kick they'd give! As a somewhat grown-up version of that little girl, the feeling has not subsided. In fact, I recently found its quintessence in a, if I may say so, kick-ass pair of white leather brogues from Church's. Church's make 'proper' men's shoes and although mine are from the women's line - a small concession had to be made for fit and appearance's sake - I'm in love with them. I bought them recently as a gift to myself and I smile at them each time I walk past. I wear them with ankle-length trousers, rolled-up jeans but also skirts (boo!) and dresses. I want to strut in them, run in them, go on adventures in them. And while I love high heels - an equally recent and precious Martin Margiela purchase is a whole other story - my brogues represent the closest my childhood self and current self have come, sartorially-speaking. So, although they feature in no big story at the moment, they undoubtedly will. Boys, beware!