Put down that brownie, call the neighbours, stop the press: London Fashion Week is suddenly upon us. Breaking news? Hardly, of course, and you're all far way ahead of me already seeing as it's coming to an end with today's menswear shows. On the brink of history yet again Kiki, full marks!
The day started as all days should: with a Mercedes Benz waiting outside my house and even better, carrying Sasha and Daniel, the driver, who as the week developed, emerged a legend. Hence his new name: Lovely Daniel. It's always a good moment when you enter the Somerset House courtyard for Fashion Week. No matter how many times I visit, for gigs, ice-skating and exhibitions, it always manages to lift my spirits. I also met up with our wild little bunch of bloggers, which included
Random Fashion Coolness
,
Mlle Robot
,
Disney Roller Girl
and, of course,
LLG
. Apologies if I have forgotten anyone, I'm sure I have but a nasty cold has hit me hard and I can just about remember my own name right now. From the look of my nose I think it's Rudolph!
I saw - and again, this may not be the correct order - David Koma, Jena.Theo, BodyAmr, Felder Felder, Jean-Pierre Braganza, Hannah Marshall and Sass &Bide. David Koma was intriguing, nonetheless due to the sudden influx of attention thrust upon this young designer ever since a certain Ms Cole and a delightful Ms Knowles wore his designs. He put on a confident show to a full house and managed to both cleverly evolve his identity and satisfy those who wanted to see his tight, sexy, put-me-on-a-stage-and-watch dresses. On a strict black, grey and nude palette, I loved the zig-zag/thunder cutout patterns as well as the 3D metal, zip-like detailing on sleeves and shoulders. (
apologies for the dodgy camera work!
)
Something happened to the Felder Felder sisters and I like it! They got tougher, more confident perhaps, and so did their clothes. Their show was definitely one of my highlights of the day, especially their copper chain detailing. The press notes suggested Bram Stoker's Dracula and Tim Burton's Sleepy Hollow as references to confirm a gothic, dark edge to the sisters' genuine romantic streak. (
my camera's memory ran low so I could not film the entire walk-through
)
Walking into the Orla Kiely presentation at my beloved Portico Rooms was stepping into her world; the walls were wallpapered and the furniture and stools upholstered in her fabrics and patterns. The autumnal palette of browns could easily push one to think of a dull Britain pre-Beatles, post-Vera Drake but Kiely's collection was light, sweet, youthfull in the rounded edges of the shoes and shiny quilted bags. Let's just say that Carey Mulligan's Jenny in
An Education
would find plenty here to wear!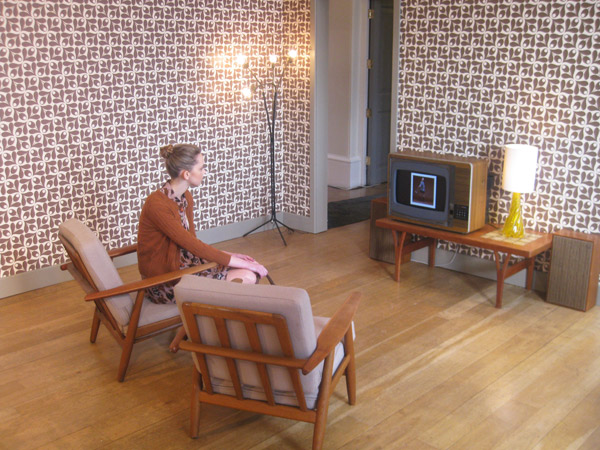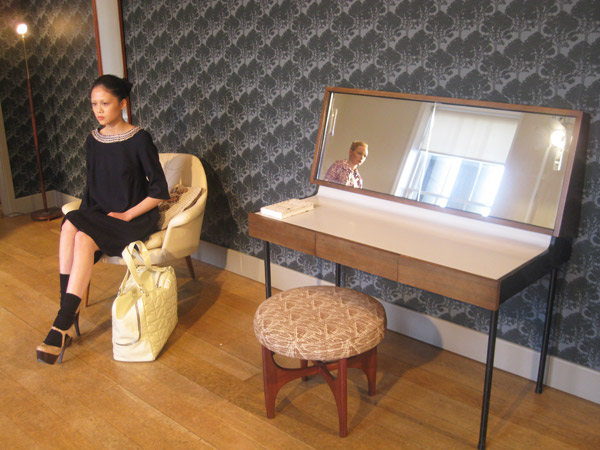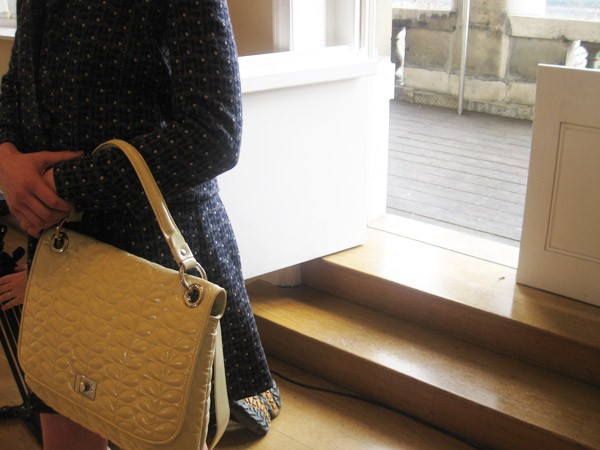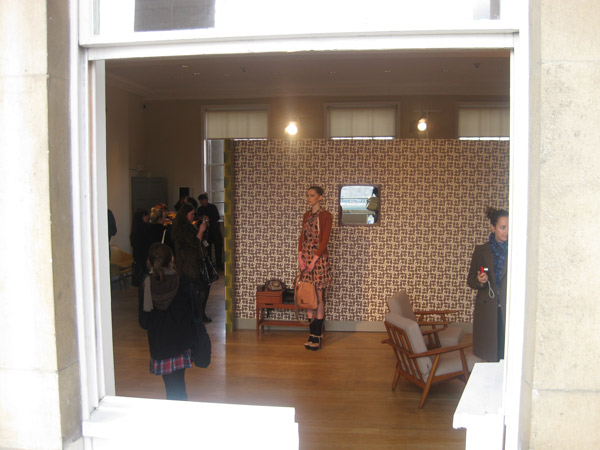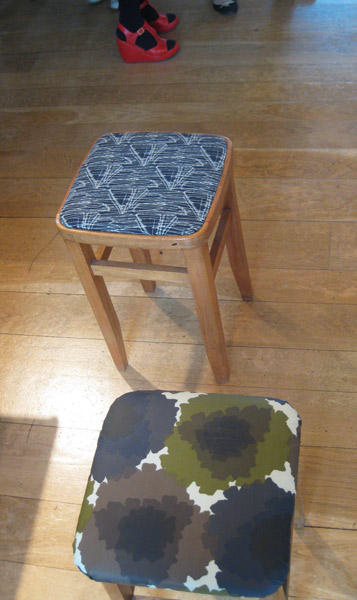 And from Orla Kiely's Sixties to Sass & Bide's Australian cool (were those shark teeth patterns I saw?) and finally, home.