So, here they are!

Nicholas Kirkwood
,
master of

the extraordinary
heel
, has introduced flats to his SS10 collection and really, is there anything this guy can't do? I love the rounded lines of the first one (is that a small zip detail I see at the back?) and the interesting heel on the lace-ups that show how Nicholas has not put the architectural tendencies that underline his other collections aside for these.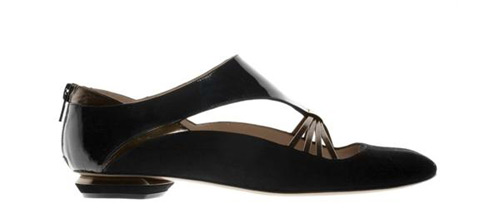 I interviewed Nicholas for
Ponystep
back in February this year and he mentioned that he was planning to design a flat. Here's what he said then:
"KG: Is it true that you're doing your first pair of flats?
NK:
Uhmmm, yes if I get it done! I haven't started working on them yet but I've got to have it ready for Paris so…
KG: No pressure!
NK:
I'll start work on those maybe next week. But yes, if they come out looking OK they will be. They're not going to be flat flats like a ballerina, because that's also, in the same way I felt when I first started making shoes with everything looking same-y, I feel that now about flats and ballerinas. Ballerinas are the same f****** shoe, done in every colour-way possible so yeah, there's an area slightly unexplored! I'm not quite going to the mid-height yet, I'm sure in seasons to come that will happen, but for me it's just going to be either high or low.
"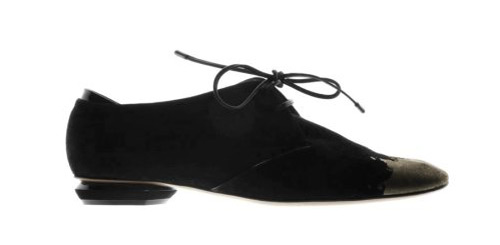 A limited-run of just 17 pairs per style is available at
Dover Street Market
until they become available worldwide in the new season.