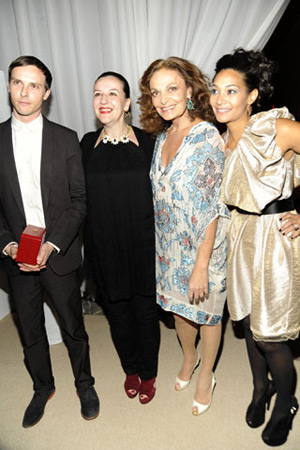 So, French-born and Brooklyn-based Sophie Théallet won the CFDA/Vogue Fashion Fund award in New York last night
and the $200,000 grand prize that accompanies it! She joins an impressive list of past winners that features Alexander Wang and Proenza Schouler. Jewellery designer Monique Péan and menswear designer Patrik Ervell are the two runners-up, taking home $50,000 each.
Interestingly, Her Highness Anna Wintour said in her speech that other countries are keen to introduce a similar contest, most notably France,
"
and Brazil, India, Russia, and China aren't far behind
."
Congrats to all the designers!
Patrik Ervell, Sophie Th
éallet, DvF and Monique Péan. Image by
Style.com
.