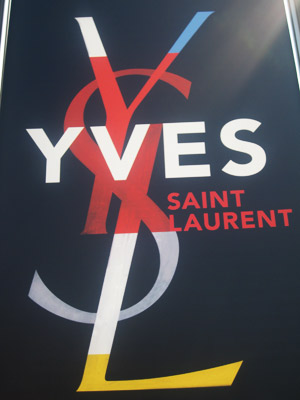 Reading the Q&A with director Pierre Thoretton in the New York Times'
T magazine
has got me even more excited to see
L'Amour Fou
, the documentary on the relationship between
Yves Saint Laurent and Pierre Berg
é
as seen through the sale of their mouth-watering art collection. Not that further encouragement was necessary, you understand, but I've always been particularly interested in Monsieur Berg
é
and intrigued, not alone in this, by his decision to let go of their art collection right after Yves's death.
What also got me excited about
L'Amour Fou
is the rare footage the director has included of a giddy and young Yves Saint Laurent facing Berg
é
's camera and delivering his answers to his
Proust Questionnaire
(Berg
é
's voice can be heard asking the questions). You can see the clip
here
.
I will not even attempt the pointless task of rounding up the sheer talent and genius of Saint Laurent here but the interview did bring back memories of the seminal

Y

S

L

retrospective exhibition that I saw in Paris last year (and never posted about, well done me!). If the sign of a master, in any field, is having a design stand the test of time and appear as relevant and desirable decades later as when it originally appeared then Monsieur Yves is The Master of them all. I even managed to sneakily take some pics (forbidden at the exhibition) and face the contempt of two chic but formidable French
madames
, (whose advanced age stopped me from responding) who confronted me in front of the Mondrian dress! Paris, you never fail me, I though, offered them a smile and moved on.
The giddy young Yves of the Proust clip is really a sight to behold, in sharp contrast, of course, to the older, frail designer taking his final bow in 2002. And so is the even younger Yves on the clip below, appearing at the US television show
What's My Line
in 1965, to promote his perfume
Y
. So pretty, chic and sweet - and so hilarious in retrospect to hear the presenter praise the young Yves and wish him success with the perfume. "He might go places, this kid", you can almost hear him think. And he did, Monsieur. He really did!
L'Amour Fou
trailer by IFC Films,
What's My Line
clip by CBS,
YSL
exhibition images by
moi
.