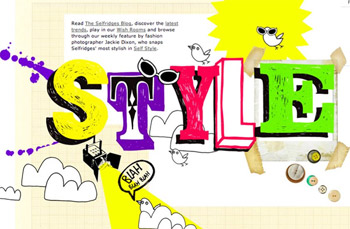 The lovely people at
Selfridges
have created the world's longest denim wall
(I may be making this up but then again, maybe not!) and to celebrate they're putting together a fun event to take place at the London store, starting tomorrow (Thursday the 3rd of Feb) and on until Saturday the 5th. Expect the coolest names in denim - J. Brand, Paige Denim, True Religion, Citizens of Humanity, Goldsign and Biometrics - debuting new styles for Spring-Summer with their experts in attendance to offer invaluable advice so come along! I say 'come' because in the middle of all this denim
fantasia
Selfridges were kind enough to ask little ol' me to be a part of it! And I'm in good company - the dreamy Jackie Dixon aka
Show Me Your Wardrobe
, the divine Mel Rickey aka
Fashion Editor at Large
and the delightful Susie Lau aka
Style Bubble
will also be taking part and over the three days will be hosting a 'bloggers bar' and talking all things blog, blogger, blogging. And if none of these good people are doing it for you (in which case, why are you here?) I have it in good authority there will be music by the
Work It
girls and mini Pop champagne bottles going around (
that
's why you're here!).
I will be at Selfridges (3rd Central, 3rd floor) tomorrow from 2-4 pm and If I'm not wrong Susie will be there right before me 12-2. Come, say hi, have some champagne - make sure you get some lunch in you first, check out some jeans, have fun!
Now, I am most definitely a jeans person. I live in my favourite pair until it melts on my body and have done so since I was a teenager, growing up in the Nineties on an island in Greece when it was all about the Levi's and specifically the
501s
. Some may argue, it still is! I like my denim worn in, faded, dirty. Luxe, shiny, perfectly polished jeans will just not work. And neither will a denim mini skirt. I tried, it just feels wrong on me. Trying to explain it to my sis I could only come up with 'too Jennifer Aniston'. Words may fail me at times but a good comparison with a Hollywood actress is never far! Having said that, denim shorts - yes! I think it's the tomboy in me. I am therefore looking forward to checking out J. Brand's retro shorts, as seen below, that with their high waist could make my summer uniform. Also excited by J. Brand's Martini skinny flares because, even though I'm writing this in my trusted skinny jeans, I'm ready for a change and I think skinny flares might be the ones. And finally, every since I saw Isabel Marant's pale pink jeans from her SS11 show I've been looking for a pair but as this is coming from a person whose best friend once gasped when she changed from skinny black jeans to skinny blue ones, this might take a while!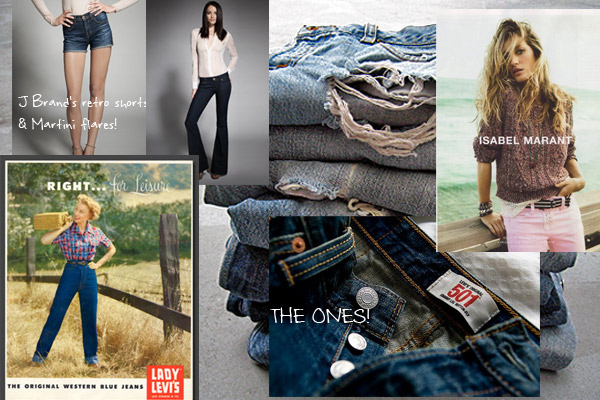 See you all tomorrow, yes?