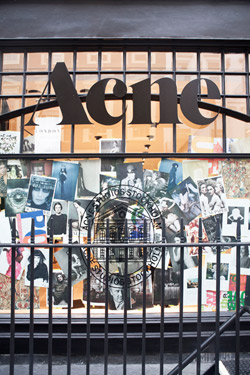 Today can be easily renamed London Acne Day and if you happen to walk down Dover Street later this evening you will find - along with the odd confused sufferer of said skin condition and a long guest list of the Stockholm-based label's favourite fans - myself and T celebrating (is there a better word?) the arrival of their first London store.

Or studio, as it's officially called. I will be celebrating because I love the label and my dislike of department stores, excluding Liberty, has so far meant a limited access to its goods. Not such a bad thing, mind you, because easy access to some of the best leather jackets this side of the universe would not make my bank account happy. Is it ever? T will be celebrating because he will no longer need to order online and have to trot to the post office for any returns to Stockholm. We're reasonable people, really!
This being Acne, the store alone would not suffice as enough excitement for one day so with London Fashion Week's provisional schedule out today the secret is finally out: Acne will be showing as part of the London schedule. I found out at another Acne party at Harrod's and somehow managed to not tell anyone. I think this feat deserves a second cocktail tonight!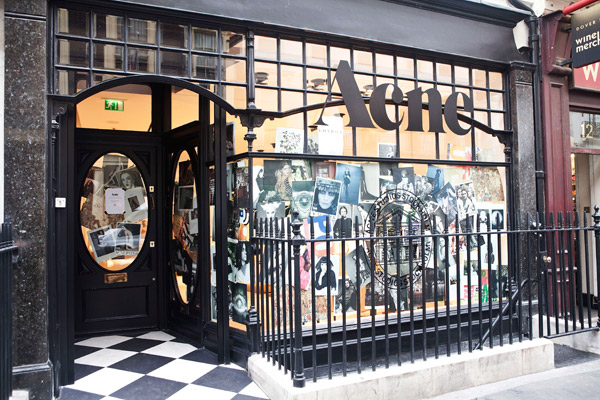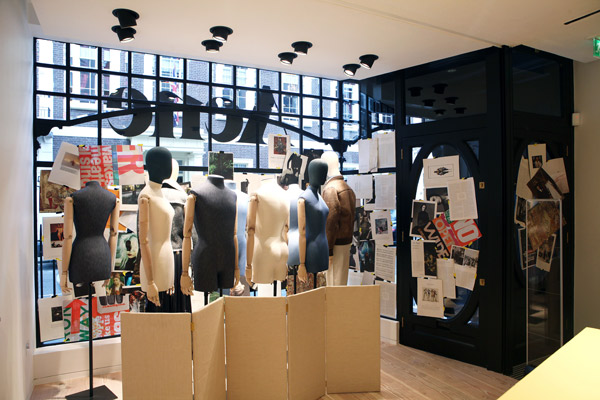 Back to the store. Picked by Acne's Creative Director, Jonny Johansson, during a reccy, it is a former art gallery and in order to counteract its white walls Jonny and his team have installed a fantastic collection of art pieces that bring back a sense of the building's age. Acne favour old buildings and this one, with its unfinished and untreated light wood floors that scream Sweden, may be the most modern one of them yet. The ground floor is dedicated to menswear and a piano that may or may not see some key action from Jonny himself at some point.
The first floor is all womenswear with three large canvases by the artist Jeremiah Goodman, known for his interior renderings for clients like, oh I don't know, will Greta The Great Garbo and Diana The One Vreeland do? The paintings are renditions of Jonny's Stockholm office. All fittings, mannequins, at least one of which is a wonderful brushed dirty gold suede, and show pieces are custom made for the store.
The third floor is cleverly all about denim so you can focus entirely on stocking up on your favourite pair of Hex, Flex or Kex!
The fourth floor is a light-filled spaced that currently houses a menagerie of shoes, jewellery and other accessories but will also play host to various small exhibitions and events. It also has a double-storey ceiling, a staircase to nowhere and access to a sweet terrace garden - quick, try and think of other London stores that have a terrace garden? With plants!
So, there. The store opens this Friday. Go and visit. Admire the Helmut Lang art pieces. Stroke the winter jackets. I'll be there tonight enjoying that cocktail we talked about!
(
The difference in the light of some of the images is easily explained by the fact that all crystal-clear images are by Acne and all weird-yellow ones by myself.
)